Hi everyone!  I trust you are having a great week!  Here are a few articles I found on air pollution and respiratory issues.
The Porterville Recorder says this:
Respiratory, health issues exacerbated by smoke
At-risk residents urged to stay indoors
Smoke flowing into the Porterville area from numerous fires around the state is not just fouling our air, it is causing serious health concerns, a local pulmonologist said.
Dr. Harprett Sandhu said he has seen an increase in patients and has seen more complications for existing patients at his practice in Porterville.
"Not only in the past few days. I have seen an increasing tend the past few weeks," he said Thursday. 
The Cedar Fire about 30 miles southeast of Porterville is pouring smoke into the Valley and that is being mixed with smoke from the Bluecut Fire north of San Bernardino, the Chimney Fire in San Luis Obispo County and the Soberanes Fire on the California coast near Big Sur.
By mid-afternoon Thursday, the smoke was so heavy in Porterville it was like a cloudy day. By late afternoon, an orange hue was created over the city.
The San Joaquin Valley Air Pollution Control District issued a health cautionary statement early Thursday. It noted the smoke is creating unusually high particulate matter and ozone levels throughout the Valley.
Cassandra Melching with the air district, said Porterville and Springville are two of the worst areas of the Valley, but other areas area also being impacted.
"It's just not good," she said, warning residents to stay indoors as much as possible.
"If you smell smoke and you see it, it's definitely affecting you," she added.
Dr. Sandhu said the fires only exacerbate already bad air in the Valley. He said he has seen an increase in patients over the past eight weeks.
For those with respiratory problems, the smoke causes immediate problems. Kelly Kestner with Pacific Pulmonary Service, a medical supply company, said they have had an increase in calls for people needing oxygen or filters for their breathing apparatuses.
"Any time you have an extended period of breathing in contaminants, it can have a negative affect," she said.
Even those healthy patients are being affected. Melching said a tightness in the chest, difficultly breathing, dizzy, light-headedness and a scratchy throat are all signs someone is being affected by the smoke.
Dr. Sandhu said for the healthy patient, "because of stuff in the air, it can be a concern." He said people should be aware of the symptoms.
He said the smoke is adding to the number of hospital stays and visits to the emergency room, but like the air board, he advises people to stay indoors as much as possible.
The Cedar Fire, which spread rapidly Thursday, was less than 10 percent contained, and the Bluecut fire was also less than 10 percent contained. Fire officials expect both fires to continue to burn for several more days, if not weeks. 
"The businesses and residents of the Valley have done so much to reduce summertime pollution that it is unfortunate when these wildfires overwhelm that great work," stated Seyed Sadredin, the District's executive director/Air Pollution Control officer. 
Smoke from wildfires produces particulate matter (PM) and contributes to the creation of ozone, which can cause serious health problems including lung disease, asthma attacks and increased risk of heart attacks and stroke. People with existing respiratory conditions, young children and elderly people are especially susceptible to health effects from these pollutants. Air District officials urge residents to follow their doctors' orders when exposed to wildfire emissions and stay indoors if at all possible.
The District's Real-time Air Advisory Network (RAAN) monitors are designed to detect the fine particulates (called PM 2.5 which are microscopic in size and not visible to the human eye) that exist in wildfire smoke. Residents can check the District's wildfire page at www.valleyair.org/wildfires for information about any current wildfires and whether they are impacting the Valley. Residents can also check the nearest air monitor to their location to determine localized air-quality conditions. Visit the Real-time Air Advisory Network to subscribe for free:www.valleyair.org/RAAN.
Iraqi children pay high health cost of war-induced air pollution, study finds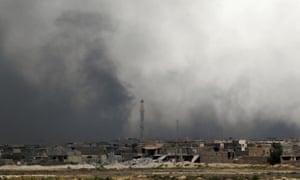 Air pollution caused by war may be a major factor in the numbers of birth defects and cancers being reported in Iraq and other war zones, a study has suggested.
Human exposure to heavy metals and neurotoxicants from the explosion of bombs, bullets, and other ammunition affects not only those directly targeted by bombardments but also troops and people living near military bases, according to research published in the scientific journal Environmental Monitoring and Assessment.
Mozhgan Savabieasfahani, an Iranian toxicologist and lead author of the report, said "alarming" levels of lead were found in the "baby" or "deciduous" teeth of Iraqi children with birth defects, compared with similar teeth donated from Lebanese and Iranian children.
"Deciduous teeth from Iraqi children with birth defects had remarkably higher levels of Pb [lead]," she said during a recent visit to London. "Two Iraqi teeth had four times more Pb, and one tooth had as much as 50 times more Pb than samples from Lebanon and Iran."
The study is important, because there has been scant research on how years of warfare across the Middle East have impacted local civilian populations, and data is hard to collect.
However, the few investigations that have been conducted suggest sharp increases in congenital birth defects, premature births, miscarriages and leukaemia cases in Iraq and other war zones, a finding supported by interviews with doctors.
The study supports claims that the long-term health of many thousands of former US soldiers was devastated by air pollution caused by the unregulated burning of huge volumes of military waste in hundreds of open air "burn pits" during the Iraq war.
More than 85,000 US Iraq war veterans who have signed a government registerhave been diagnosed with respiratory and breathing problems, cancers, neurological diseases, depression and emphysema since returning from Iraq. About half have stated that they were exposed to the burn pits.
The toll among soldiers has been documented in testimonies given to the US Department of Veterans Affairs and in a new book, The Burn Pits, based on interviews with 500 veterans exposed to pollution. They record how foam, electronics, metal cans, rubber tyres, ammunition, explosives, human faeces, animal carcasses, batteries, asbestos insulation and heavy metal waste were doused in jet fuel and set on fire during the Iraq war.
For the full article click here
Commonly Used Cheap Cloth Mask Not Very Effective Against Air Pollution
A new study reveals that the cheap cloth masks, most commonly used in highly polluted areas in Asia and Southeast Asia, could not protect people from the harmful effects of air pollution.
The study, published in the Journal of Exposure & Environmental Epidemiology, showed that inexpensive cloth mask, about 10 to 15 cents each, performed poorly compared to standard hygiene mask known as the N95, which costs about $3 to $4 each.
"This has clear public health risk," said Richard Peltier, an environmental health scientist at the University of Massachusetts Amherst and co-author of the study, in astatement. "Especially if an individual makes personal choices not to avoid high concentration environments because they assume they are protected from these contaminants."
For the study, the researchers conducted a series of experiments on various types of mask: one pleated surgical type, two cloths and one cone-shaped cloth with exhalation flaps. The researches simulated real-world conditions and tested the effectiveness of each mask in filtering out five different synthetic aerosol particle sizes plus three particle sizes of diluted whole diesel exhaust.
Read further at natureworldnews.com
Dust Monitoring Equipment – providing equipment, services and training in dust fallout management to the mining industry.
Thanks for reading!