Some interesting articles on the effects of Christmas products on your health and how to have a green Christmas!  Enjoy and MERRY CHRISTMAS!
Dust Monitoring Equipment – providing equipment, services and training in dust fallout management to the mining industry.
Christmas Lights Are Ruining Your Health and the Environment
Last week, NASA released a report whose tone was misleadingly gleeful. Called "NOAA/NASA Satellite Sees Holiday Lights Brighten Cities," it began, "Even from space, holidays shine bright." The satellite has been monitoring patterns in nighttime lighting intensity all over the world since its mission began in January of 2012. The conclusions are unsurprising: beginning on Black Friday, nighttime lighting in and around U.S. cities brightens, and remains brighter through New Year's Day.
That we can observe this from space proves we have too much of a good thing: Our love of holiday lights has become a flagrant waste of energy.
Miguel Román, one of study's coauthors, told me that they're waiting for the "happy goldilocks threshold" of three full years of data to make sure the trends they're seeing are correct, but it doesn't take a scientist to see this—just take a stroll tonight. Of the 70 cities and surrounding suburbs analyzed—all south of St. Louis, because snow in northern cities reflects so much light—Román and his team found that "in most suburbs and outskirts of major cities, light intensity increased by 30 to 50 percent." Cities saw increases of 20 to 30 percent.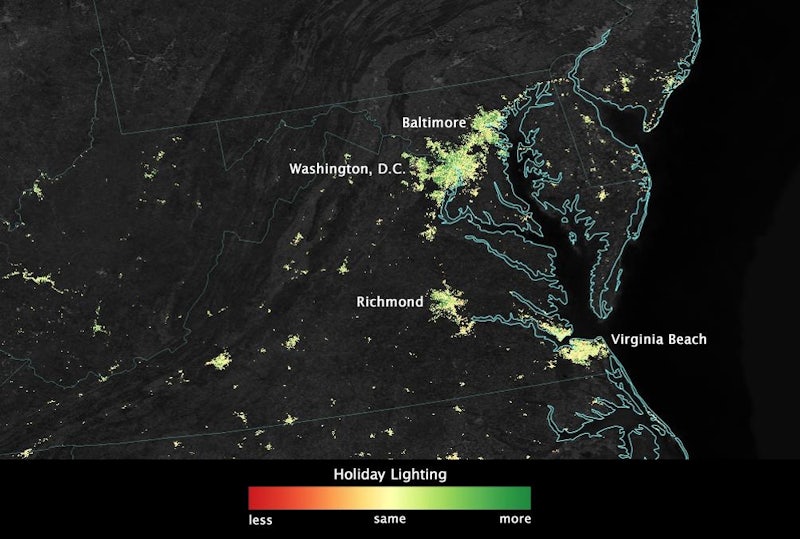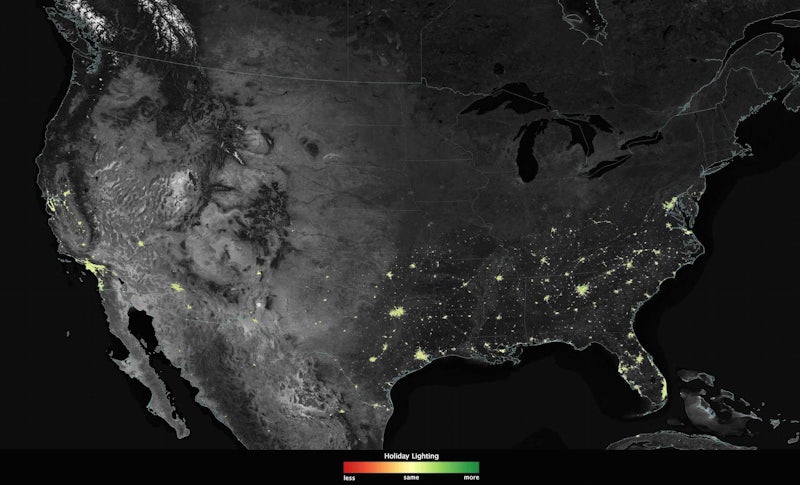 This isn't just a waste of energy, further taxing the environment. It's also contributing to a growing problem in the U.S.: light pollution.
Information found at New Republic
Real Vs Artificial Christmas Tree: What the science says
e debate about Christmas trees takes place year after year. We really shouldn't use real trees and I'm glad that more and more people have stopped using natural trees for Christmas, but are artificial alternatives really better? Here, we'll be discussing the main pros and cons of using artificial trees versus real trees, so that you can make the best decision and see what the science says.
Artificial Christmas Trees are artificial trees manufactured specifically for the purpose of being used as a Christmas tree. Here, I'll be focusing only on the most common ones (the ones made from PVC), but you should know that there are also other, more creative alternatives. Most people would be surprised to find out that in many ways, artificial trees actually do more harm to the environment than cutting natural trees; in other words, the idea of artificial trees being eco-friendly is, as a researcher at Kansas State University put it – "an urban myth".
A peer reviewed study released in 2011 found that the impacts of natural and artificial trees are almost similar, with the artificial ones being slightly worse. The key here is PVC. PVC (polyvinyl chloride) is a petroleum-derived plastic. The main raw material for fake Christmas trees is both non-renewable and polluting, and you can't recycle it. Furthermore, PVC production results in the unhealthy emission of a number of carcinogens, such as dioxin, ethylene dichloride and vinyl chloride. Also, in order to actually create the needles, lead is often times used – and lead can have a number of significant negative health effects, including kidney, neurological, and reproductive system damage. Touching the tree, especially with your face can be quite hazardous. Also vacuuming around the tree can spread tiny lead particles in the air, which creating an inhalation danger.
It also requires a lot of energy to create and transport the fake trees. You need to reuse the tree for 20 years before it actually the total energy used starts to be less for artificial trees. There is also the problem of transportation, though recent studies have shown that that's not such a big problem.
"The reality is that the long distance transport from China is pretty efficient," says Laura Morrison, a Senior Consultant at PE International.
"Real" Christmas Trees are almost always evergreen conifers, such as spruce, pine, or fir. The custom of the Christmas trees developed in early modern Germany with predecessors that can be traced to the 16th and possibly 15th century. The history of this tradition has actually nothing to do with Christianity, though many Christians embraced it. Each year, 33 to 36 million Christmas trees are produced in America, and 50 to 60 million are produced in Europe. Naturally, cutting this many trees is a big problem, both ethically and environmentally, but is it worse than polluting ?
Natural tree growers contend that artificial trees are more environmentally harmful than their natural counterparts, but trade groups such as the American Christmas Tree Association claim the exact opposite, so you can't really rely on their claims considering their obvious bias. What does the science say?
Live trees are typically grown as a crop and replanted in rotation after cutting, often providing suitable habitat for wildlife. However, poor management can lead to poor habitat and soil degradation, but generally, Christmas tree plantations are at least decent habitats. Another main drawback is that you only use them for a short while, and then you throw them away. Sadly, even though they are biodegradable and highly recyclable, Christmas trees are sometimes simply thrown away. But more and more, they are starting to be recycled and used as mulch or used to prevent erosion. Real trees are also carbon-neutral, though emissions can occur from farming activities and transportation. They are also more expensive then artificial trees, since you need a new one every year.
It's not possible to say that real or artificial Christmas trees are better. If you really want to have a green Christmas, if you want to lower your negative environmental impact, don't buy any tree. Decorate your house, maybe get some fallen branches, whatever… just don't get a tree. If you do want to keep the tradition and get a tree, then this is the main takeaway:
Both natural and fake trees have an environmental impact. Most people don't know, but artificial trees have a slightly larger negative impact, requiring more energy, polluting and even posing potential health hazards. Cutting down natural trees, even if they are recycled afterwards and have a smaller carbon footprint, is unethical, and you would get a much bigger environmental bonus if you just let them grow. You'll get a better habitat, more carbon sequestration, better landscapes and so on. This is what science says… the decision is yours. Choose responsibly!
Article found at ZME Science
How To Have A Green Christmas – Earth Easy.com
Christmas doesn't have to be a burden on the environment. With a little effort and imagination, we can reduce the environmental impact of the holiday season. Here are some ideas to help celebrate the season while caring for the earth.
Buy Less
Some holiday gifts fill a practical need and need to be bought new. But many gifts are really gestures of thoughtfulness. You can give more while spending less.
• Not all gifts have to be store-bought.
You can give more while spending less by giving gifts that are personal and unique. While young children may favor the bright, shiny store-bought item, most adults appreciate anything that shows thoughtfulness. Here's a page with some great ideas for meaningful holiday gifts that aren't found on store shelves: Tips for sustainable giving
• Simplify the 'gift-go-round'.
Feeling overwhelmed by a gift list that's just too long? Here's an idea to help shorten your list and simplify the family gift-giving ritual. We tried this in our own family last year and it was appreciated by all.
Before the holiday season begins (Thanksgiving is a good time because the extended family is often together), put the names of all adult family members on separate slips of paper and put the slips in a hat. Take turns picking one name per adult – the name you pick is your gift recipient. Keep your chosen pick a secret, to help maintain an element of surprise.
Your gift list for the adults in your family has just been shortened to one! You can now focus on a special gift for the person whose name you picked, without the difficulty and expense of finding just the right gift for everyone.
If the family's not together on Thanksgiving, ask Grandma or someone else in the family to pick the names from the hat for everyone, by proxy. It works just as well. An agreed on spending limit will also help everyone from feeling they have to go overboard with a fabulous gift for the person whose name they chose.
Buy Smart – think 'green'
• look for locally made gifts
Many gifts in today's marketplace come from halfway around the world, and the impact of transportation contributes significantly to greenhouse emissions and global warming. Local craft fairs and artisan shops are a good source for gifts that come without the added costs of transportation. And gifts made locally often have a story which goes with the gift, since the artisan and the origin of the gift are known.
• choose gifts made from recycled sources
Many individuals and small businesses have developed great products using recycled materials. Supporting these businesses helps reduce the waste stream while promoting the concept of making best use of available materials. Here are some examples for you to consider: Gifts from recycled materials
• give 'battery-free' gifts
According to the EPA, about 40% of all battery sales occur during the holiday season. Discarded batteries are an environmental hazard. Even rechargeable batteries find their way into the waste stream eventually. Here are a few examples of gifts that have less of an impact on the environment: Naturally-powered toys
• avoid children's toys that promote violence
There is too much violence in the world, and the new wave of video games for children is disturbing. Remember the theme of Christmas is "Peace on Earth". There are many toys and games that are fun, and nurture childrens' creativity and sense of active play. Here are some examples: Educational toys and games
• 're-gifting' is OK
There's much discussion these days about the etiquette behind the trend to 're-gift', that is, to pass on a gift you received but do not need. What's to discuss? Re-gifting makes perfect sense. If you receive something you really don't need, look for ways you can reuse this gift by passing it on to someone who can use it. Of course, re-gifting needs to be done with care so as not to offend the original giver, but keeping a gift you don't need is wasteful.
Connect with Nature
Christmas is a time for giving, and a time for family. What a great opportunity to start a family tradition of giving back to the earth and instilling the values of sustainable living to your children, friends and community. Start an annual, earth-friendly Christmas family tradition! It will also get you outdoors for a few hours to build an appetite for the big dinner.
Annual Christmas Day Bird Count
Take your binoculars, a field guide to local birds, a small pad or journal for each participant and walk a course through your neighborhood, local park or countryside. Try to identify and count every bird you see, and make a note of it in your journal. At the end of the hike, list the species seen and number of birds per species. There's always a surprising discovery, and the activity highlights the presence and value of our feathered friends.
Compare the results from former years and you'll become experts on your local bird population and migration habits. This is a great family activity because even the youngest eyes are just as good at spotting the birds and contributing to the event.
Lower the impact of holiday lighting
In the past, the house with the most decorative holiday lights used to be considered the 'best'. Times have changed. The cost of electricity goes way beyond the utility bill. Electricity drains natural resources.


• Reduce the size of outdoor lighting displays
A smaller presentation of lights can still be attractive, and more appropriate in the 'season of giving'. Saving electricity is also a way of giving, since conserving resources benefits everyone.
• Use LED lights for house and Christmas tree lighting
LED (Light Emitting Diode) holiday lights use up to 95% less energy than larger, traditional holiday bulbs and last up to 100,000 hours when used indoors. LED holiday lights use .04 watts per bulb, 10 times less than mini bulbs and 100 times less than traditional holiday bulbs. Over a 30-day period, lighting 500 traditional holiday lights will cost you about $18.00 while the same number of LED lights costs only $0.19. As an added bonus, if one of the LED lights burns out the rest of the strand will stay lit.
• Outdoor Mini-lights will also save energy
A 100-light string uses only 40 watts. If you're buying a new set of lights, compare based on equal 'lighted lengths'. Some higher priced brands have 100 mini-lights for only 8 1/2 feet of length, while some 100 mini-light strings cover up to 40 feet in length. For the most efficient outdoor holiday lighting, consider the new solar LED strings now available.
• Turn tree lights and outdoor house decorative lighting at bedtime
It's simply a waste of energy to leave the holiday lights on at night after everyone's gone to sleep.
Follow the link above to read some more green Christmas ideas!